Honoring the Past and Ensuring the Future
What's New at TPF
The Trestle Trail, above Blackie's Pasture, will connect us to this area's railroad history.

Pocket Grants from the
Tiburon Peninsula Foundation are for
wonderful people doing wonderful things
in our community - one small grant at a time.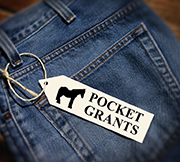 Thank You!
We thank you for your contributions and look forward to receiving your Grant Applications for 2016.
Click here for more information about TPF Grants
Please partner with TPF as we continue to improve and support our community.
In 2015-2016 we have participated in a variety of community projects, special partnerships, and collaborations, including Blackie's Hay Day (Bookmarks), Walk Your History (Landmarks), Restoration of Trestle Berm in Blackie's Pasture, Tiburon ARTWALK, Median Planting Project (Town of Tiburon), and continue to market our new edition of Blackie, the Horse that Stood Still to name a few.
And we have big plans for the coming year too!

The Tiburon Peninsula is a unique community. Just 10 minutes north of San Francisco across the Golden Gate Bridge, it's surrounded by water and spectacular views, beautiful open spaces and walkable ridges. For generations, residents have enjoyed the spectacular beauty and tight camaraderie found in the community.
Enjoy this virtual tour of the Tiburon Peninsula and join us as we honor the area's past, enhance the present, and embrace its future.