Current Projects
TPF is proud to have participated in these community projects.  Our projects enhance life on the Tiburon Peninsula.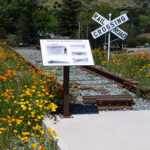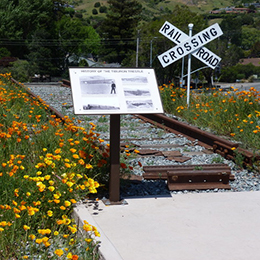 Trestle Trail, above Blackie's Pasture, is a tribute to Tiburon's 135-year-old railroading history. The "trail" is actually a 600-foot concrete walkway, designed to resemble railroad track, that is interspersed every six-feet with a timbers bearing a bronze plaque. Each plaque, purchased in support of the Trestle Trail project, bears a family memorial, a personal aphorism or a notable quotation. In all, there are 75 such plaques.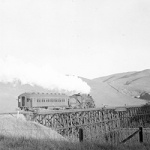 Bordering Trestle Trail are viewing benches and native California plantings such as ceanothus, tagetes and poppies. At the trailhead and the trail's terminus are large placards with historical anecdotes and photos. In addition, at the trailhead there are two picnic tables and at the terminus are 40-feet of vintage railroad track along with timbers remaining from the 750-foot trestle, built in 1884, which once spanned today's Tiburon Boulevard.
Completing the tribute is a nearby two-acre meadow that each summer blossoms forth with such California wildflowers as lupine, Tidy tips, yarrow and poppies. The entire Trestle Trail park-like complex is maintained on a regular basis both by volunteers and a crew of landscape professionals.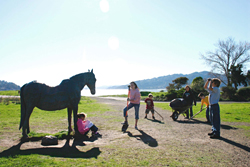 For 28 years you couldn't leave or return to Belvedere or Tiburon without passing a swaybacked horse named Blackie standing in a field that became known as Blackie's Pasture. Today, thanks to a wonderful gift by the family of Gordon Strawbridge, Tiburon's first mayor, a life-size bronze sculpture of Blackie stands in the pasture, visible to all who drive by. Created by the noted Bay Area artist, Albert Guibara, it was erected in June 1995 thanks to the Tiburon Peninsula Foundation. It's a reminder of Tiburon's past, a link with earlier times, and a cherished memory older residents share with newcomers.
The Story of Blackie
Blackie was a cavalry horse in his youth, having been stabled at the Presidio. In spring the cavalry would saddle up their horses, ride to Yosemite National Park, and patrol the park all summer. When winter arrived they returned to the Presidio. After being retired from the Army, Blackie became a cutting horse at rodeos, and when he was 12 years old was retired to a private pasture at the corner of Tiburon Boulevard and Trestle Glen Road—what's now known as Blackie's Pasture. His owner, Anthony Connell, visited him daily, as did children and adults alike who could be seen feeding Blackie carrots, sugar, and hay at all times of the day.
To those who lived in the area, Blackie was Tiburon's horse, a friendly steed who belonged to everyone. In spite of his age and swaybacked condition, many people felt he still exhibited a military air and pride that came from having been a great horse in his early years.
It was a sad day when Blackie collapsed on February 27, 1966. The Marin County Health Department approved his burial in the pasture where to this day his grave is marked by a simple cross and a memorial plaque made possible by contributions from concerned citizens of the Peninsula. Blackie lived for 40 years, which is unusual for a horse. It was love that sustained him, the love he received from old-timers and newcomers alike.
About the Artist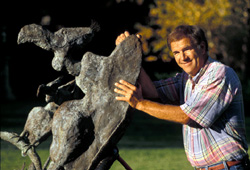 Born in Los Angeles in 1944, Albert Guibara spent most of his adult working life in the San Francisco Bay Area. He began sculpting at the age of 24 and, from the start, his subject matter was as diverse as one could possibly imagine. Restless with simply repeating a single image in the same way, he has consistently stretched his talent into uncharted areas of creation to produce a body of work that effectively defines his artistic versatility. Albert Guibara lives in Burlingame, California, with his wife and three children. You can learn more about the artist here.
The Tiburon Historical Trail is a joint project of the Tiburon Peninsula Foundation and the Belvedere-Tiburon Landmarks Society. This trail runs between Blackie's Pasture and the Donahue Depot in downtown Tiburon. Each plaque displays an early photograph taken from the location of this plaque so you can compare it then and now.
Start your adventure at the beginning of the Old Rail Trail, located next to Harvey's Garden in Blackie's Pasture, Tiburon, California. Enjoy the 2.5 mile multi use path all the way to Main Street, Tiburon. Continue to the final stop at the historical Donohue Depot where the train began its trip from the Bay north. Donohue Depot is at the end of the beautiful Shoreline Park facing Angel Island and San Francisco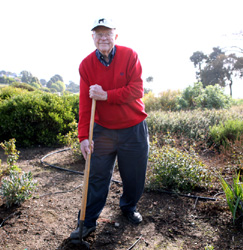 In the early 1990's the entrance to Blackie's Pasture was a mud hole in winter and a dust bowl in summer. It was pretty much an informal parking lot for people who came to walk by the Bay. A group of volunteer townspeople who called themselves Blackie's Brigade had the idea of turning the area into a grand park, but each time the plan was submitted to the town, it was turned down due to lack of funds.
The Tiburon Peninsula Foundation raised some funds to create Blackie's Garden — which has since been renamed Harvey's Garden — a lanndscaped beautification project at the entrance to Blackie's Pasture by the multi-use path. Volunteers from Tiburon and Belvedere pitched in to help. One volunteer offered to donate some plants; Another plowed the ground; Someone else brought a load of compost. Blackie's Garden was on the way to becoming a reality.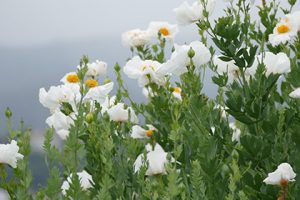 In 1995 Harvey Rogers, a local Master Gardener, caught wind of the project and expressed interest in helping. It wasn't long before he'd organized a band of volunteers composed of other Master Gardeners, gardening enthusiasts and 'good hearted' people who wanted to pitch in and help. Keeping the natural environment and water conservation in mind, they developed a theme for the garden that utilized native plants. Over the years this group of volunteers has given the garden their creativity, regular and ongoing care and loving attention. In 1997 a bronze plaque was placed in the garden honoring major donors and significant volunteers.
Sadly, Harvey Rogers died in 2019 at the age of 91. The Garden is in the competent hands of Master Gardeners and local volunteers.
Harvey Rogers named Marin County Volunteer of the Year
Master Gardener Harvey Rogers received a Spirit of Marin Award at the 19th Annual Spirit of Marin Awards Luncheon in San Rafael on September 28, 2012. Rogers, who received his award as Volunteer of the Year, helped create the native plant garden at Blackie's Pasture at the entrance to the Tiburon Multi-use Path. He partnered with the Foundation, Master Gardeners in Marin and the Town of Tiburon to maintain the garden.
Harvey's Garden Today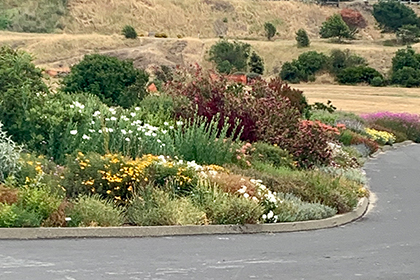 Over 2,500 native plants are in the garden, offering a variety of colors and long bloom times.
Plants are chosen because they are native, deer resistant, drought resistant, have a long blooming period, display colorful blooms, are of an appropriate size, and love sun (there is no shade!).
A good water management irrigation system has been put in place.
Most of the plants are drought tolerant. Some need no summer water!
We weed frequently (by hand), although mostly during the rainy season.
This is all volunteer work – about 80% Marin Master Gardeners and 20% interested citizens of Belvedere and Tiburon.
CLICK HERE TO SEE A LIST OF PLANTS CURRENTLY IN HARVEY'S GARDEN
The GreenTeam is committed to beautifying the Tiburon Peninsula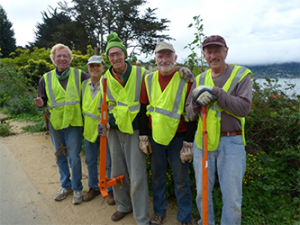 In 2013 the Beautify Tiburon Boulevard Committee and Peninsula Pride merged to form the Tiburon Peninsula GreenTeam. In addition to beautifying the Tiburon Boulevard medians they work with Tiburon Public Works to keep the Old Rail Trail, Blackie's Pasture, Downtown, Ferry and Fountain Plaza, the Heritage Palm, the Sam Chapman historical planter and Shoreline Park green and flourishing.
Their Goal: To enhance pride in the community, increase the attractiveness of public areas and foster fitness through beautification.
What They do is install new plants and maintain the medians and public landscapes from Highway 101 to the Railroad Museum.
The Tiburon Peninsula Foundation partners with local associations on projects. Our Peninsula greatly benefits from these partnerships.