Past Projects
TPF's work is never done.  This is a partial list of our important past projects,  many of which we have supported on more than one occasion.
Plant the Medians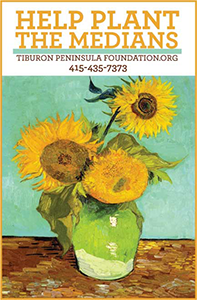 Ever noticed that Tiburon Boulevard medians are all nicely planted except the stretch by Blackfield Drive from Cecilia Drive to Bay Vista? This portion, which actually lies in the unincorporated County, is a concrete wasteland. It has a hard, neglected, urban look that constitutes an eyesore on our otherwise lovely peninsula.
The Tiburon Peninsula Foundation is partnering with the Town of Tiburon and others to do something about this – together we hope to find funding partners to make green medians a reality this year.
What would the project entail? The complete make-over of the medians involves removing the concrete from curb to curb, working around utilities to excavate the under-layers of rubble and dirt, replacing them with appropriate sub-base and soil, installing an irrigation system and of course installing plants. The cost of the project is estimated at $417,000. This is lower than previous estimates (which pre-dated detailed engineering), but still a significant sum. Why so high? Because the medians are so long! 1,770 linear feet! That means removing and importing a lot of material. Because it is in the Caltrans right of way and on a busy section of road, there is also the need for careful staging, traffic control and trenching for water supply in some locations.
The Town already put $65,000 to this task for engineering, and has earmarked another $235,000 in next year's budget for a total contribution of $300,000 or 72% of the project. Because the medians are in the unincorporated County, the Board of Supervisors, with Kate Sears' assistance, is contributing $25,000. The City of Belvedere has been asked to consider participation, for this is its entryway, too. Terrific local volunteers, many of them veterans of the effort to create and maintain the existing planted medians, are involved as well to help fundraise to close the $92,000 gap. We are so close – success is within our reach!
Optimism is running high for this community effort to beautify this neglected area once and for all. Because, really, are there any of us who would not prefer driving by beautiful flowering plants than a long stretch of lifeless concrete? Is that the front door we want for ourselves and our visitors for our otherwise beautiful corner of the earth? We think this is one of those simple but significant improvements that will benefit the quality of life for everyone who passes this way now and long into the future.
Consider making a generous contribution today to make this a reality! Let's make 2013 the last year of concrete medians on our beautiful peninsula.
Blackie, The Horse Who Stood Still
In a pasture in Kansas one early spring morn
A horse quite unlike other horses was born.
His coat was coal black so they named the horse "Blackie,"
And before very long folks found out he was wacky!
See, most colts are frisky but Blackie was not.
Blackie liked standing still! Yes, he liked it a lot!
What's the hurry?" thought Blackie. "There's so much to see
Standing here in the shade of a juniper tree…."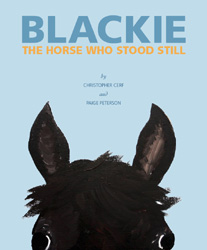 Blackie, The Horse Who Stood Still, is a children's book written by Christopher Cerf and Paige Peterson about Tiburon's own Blackie. Published by the Tiburon Peninsula Foundation and Welcome Enterprises, the playful, rhyming text and Paige's lyrical full-color illustrations tell the (mostly) true story of Blackie, a horse who made standing still a lifelong endeavor, while at the same time becoming a champion rodeo horse, a tourist favorite at Yosemite National Park, a legendary environmental crusader, and the beloved mascot of one of America's most beautiful towns—Tiburon. The book delivers an important message about appreciating and preserving the natural beauty around us and is on the way to becoming a children's classic.
The word quickly spread 'bout the new horse in town
And from all 'round the country young kids headed downTo the pasture where Blackie could always be foundStanding still, like a rock, on the same patch of ground.

The Second Edition is Here!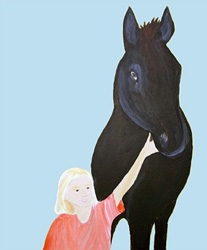 Blackie, the beloved sway-back horse from Tiburon, is immortalized in a New Edition of the classic illustrated children's book. Sixty-four pages with 45 beautiful full-color illustrations in a compact 6½" x 8″ size.
GO TO BLACKIE'S WEBSITE AND LEARN MORE
About the authors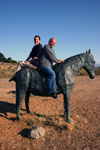 Christopher Cerf, is an author, composer-lyricist, and television producer. Cerf played a pivotal role in the creation and production of "Sesame Street," most notably as a regular contributor of music and lyrics. He has won eight Emmy Awards and two Grammy Awards.
Paige Peterson is a noted and widely exhibited artist who has been selected for membership in the prestigious Guild Hall Academy of the Arts in East Hampton, New York. As a child in Belvedere, California, she often fed Blackie apples, carrots, and sugar cubes in his pasture. She has recently illustrated Jesse Kornbluth's edition of "A Christmas Carol." A Senior Vice President of the Huntsman Cancer Institute, Paige lives and works in New York City and Belvedere, California..
Blackie's Berm
Restoration of Blackie's Berm at Blackie's Pasture
Tiburon Peninsula Foundation received a $25,000 grant to clean up the hillside that was originally the train trestle that served Tiburon. In addition to removing invasive plants, TPF planted native seed balls that were prepared by students from the Del Mar School 7th grade science class. This spring the hillside should turn into a beautiful meadow of wildflowers! The Foundation also plans to include some interpretive information for pedestrians passing through the space.
The project is aimed to increase the visibility of the railroad that once defined Tiburon and ran through the peninsula for more than eight decades. The line was built in the mid-1880's by Peter Donahue as an extension of the San Francisco and North Pacific Railroad, which ran north through Sonoma County. The line, which connected San Rafael and Tiburon through a series of tunnels and trestles operated until the mid-1960's.
The initial project grant was provided by the Carol Ann and Dennis Rockey Fund of the Marin Community Foundation. TPF is grateful for the opportunity to revitalize such a unique part of our small town's history.
Blackie and Me
A Photo Contest to Support the Young Artists in Our Community
Young photographers from kindergarten through 8th grade were invited to share their best photo of Blackie! Although he is "the horse that stood still," there's lots of action that happens around him.
CONGRATULATIONS to First Place winner Hana Ahmad, Second Place winner Georgia Pineda, and third Place winner Catherine O'Neal. And special thanks to our judges, Chloe Bohannon, Laurel Doyle, and Hannah Holscher, all age 13.
[Do we add the photos? Or because it's so long ago not worry about it?]
Blackie's Student Brigade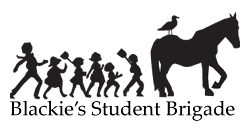 Blackie's Student Brigade is a volunteer student effort designed to engage our youth in the restoration of the ecosystems of Blackie's Pasture and Richardson Bay. A joint effort of the Tiburon Peninsula Foundation and Richardson Bay Audubon Center and Sanctuary, Blackie's Student Brigade involves Peninsula students in ecological preservation and environmental education projects, giving them the tools they need to become the future stewards of our environment.
Projects undertaken by Blackie's Student Brigade include:
Creek restoration in Blackie's Pasture and the Peninsula's watershed, including the fresh water marsh behind the library.
Richardson Bay shoreline restorations from the Audubon Center to McKegney Green and South of the Knoll Park.
Oyster Restoration

 

in Richardson Bay. Phase One is a thriving success thanks to the teamwork of Audubon, Romberg, NOAA, and the Belvedere and Tiburon Foundations.
Working with local schools to create ongoing programs in the community.
Contact Mindy Hiatt at mhiattl@audubon.org to learn more or to join Blackie's Brigade!
Blackie's Student Brigade Partners:
Tiburon Peninsula Foundation
Reed Union School District
St. Hilary School
Romberg Tiburon Center for Environmental Studies
Richardson Bay Audubon Center & Sanctuary
Town of Tiburon
Belvedere Parks and Open Space Committee
S.F. Tyree Foundation
Club Casa Grande High School Adobe Creek Restoration Project
Disaster Preparedness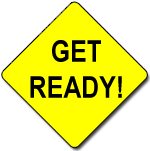 Get Ready is a 2-hour emergency preparedness training program developed by Tiburon Peninsula Foundation Board member (and Battalion Chief with Tiburon Fire District) Ed Lynch for an area task force that included the Tiburon Peninsula Foundation. The program has enjoyed tremendous success. Since classes began in May 2006, over 200 citizens have been trained as instructors and more than 3,000 local residents have completed the program, preparing themselves for the next disaster. In addition, it has been adopted by all of Marin County and several other communities around the state and nation. The manual has been translated into four different languages and is currently being adopted as a high school program for Marin County High Schools.
How Get Ready Came To Be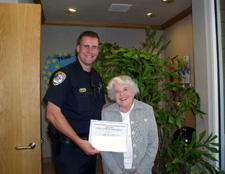 In 2005, Belvedere resident Dr. Tom Cromwell was sent to New Orleans as part of a nationwide response to provide medical assistance in the aftermath of hurricane Katrina. When Dr. Cromwell returned home to Belvedere, a community meeting was held in an effort to improve the disaster response preparation on the Peninsula. After a review of the problems encountered in New Orleans, a task force was formed to review local disaster plans and make recommendations to the local government entities responsible for disaster preparedness.
The Tiburon Peninsula Foundation took the lead, with Board member Larry Smith as the Chairman of the task force. Along with members from the City of Belvedere, Town of Tiburon, Tiburon Fire District, and the Belvedere Community Foundation, the task force realized that disaster preparedness starts with every citizen being prepared to survive the first 72 hours after an event. Current programs available to residents, such as CERT, were limited and time consuming. The task force set out to create a new program, one aimed specifically at Peninsula residents, that would provide the information and required actions residents would need in order to take care of themselves and their family after a disaster.
The program was named "Get Ready" and its goal was to create a two-hour class accompanied by a manual that residents could use as a reference guide. The manual was developed by Tiburon Peninsula Foundation Board member Ed Lynch (a Battalion Chief with Tiburon Fire District) and includes information about food, water and shelter requirements, as well as actions to be taken by residents before, during, and after disasters such as an earthquake, flood, fire and severe weather.
 For more information, and to download the Get Ready Disaster Preparedness Manual, visit the GET READY WEBSITE.
Tiburon Salmon Release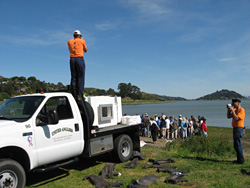 The Tiburon Peninsula Foundation is thrilled to support the Tiburon Salmon Institute's annual Salmon Release at Blackie's Pasture. Three thousand juvenile Chinook salmon are released into the wild by children who use buckets to carry fingerling salmon from a truck to the San Francisco Bay at high tide. The salmon are raised by students at Casa Grande High School in Petaluma from eggs found in the Feather River.
Working in conjunction with a variety of organizations including the California Department of Fish and Game, the California Academy of Science, the Romberg Center for Environmental Studies, and Trout Unlimited, the Tiburon Salmon Institute is premised on the belief that children have power. By teaching children and giving them hands-on experience, they learn life skills that will help them rebuild dwindling habitat and save the salmon fishery that currently exists.
For more information contact Brooke Halsey at Brooke@tiburonsalmoninstitute.com or at 415-608-6386.
Native Oyster Restoration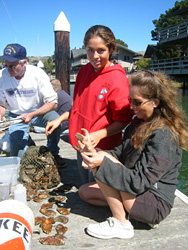 Oysters play an important role in the ecology of estuaries by cleaning the water through filtration, with each oyster being able to filter pollutants from as much as 30 quarts of seawater an hour. While at one time oysters were abundant in Richardson Bay, the Forty Niners' appetite for the delicacy along with silt deposits caused by their mining in the Sierra foothills brought the native oyster—the only one that can reproduce on its own in the Bay waters—to the brink of extinction.
When scientists discovered a few previously unknown colonies, they developed a theory that placing the shells of larger, commercially grown oysters in the Bay would provide a place for the larvae to settle and grow. The Tiburon Peninsula Foundation helped them test the theory.
Volunteers from the Tiburon Peninsula Foundation and Richardson Bay Audubon Center assisted Dr. Michael McGowan and Holly Harris, a graduate student from San Francisco State, in placing pallets of shells in six different locations by Blackie's Pasture and the Lyford House. After a few months, to everyone's delight, colonies of native oysters were growing!
The Oyster Restoration Project was a joint effort of The Tiburon Peninsula Foundation, the Richardson Bay Audubon Center, NOAA, Wildlife Forever, the Belvedere Community Foundation, and the Town of Tiburon Public Works which provided the trucks to transfer the pallets to the Audubon Center
The effort to restore the oysters continues and has expanded. The Richardson Bay Audubon Center and Sanctuary is looking at settlement and recruitment inside and outside eelgrass habitat, and at different depths, searching for habitat availability in front of Lyford House and at Blackie's Pasture.
To learn more about their important work, visit The Richardson Bay Audubon Center's website at tiburonaudubon.org
Walk Your History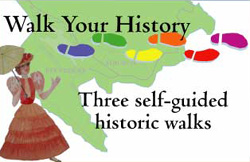 On Sunday, April 5, 2009 over 1,000 people took part in the first Walk Your History, where they learned about the fascinating history of Belvedere and Tiburon by walking three loops on the Peninsula. Over 100 volunteers and Living History docents brought history to life. Participants ran into historic figures like the notorious bootlegger Sam Vella in front of Sam's Anchor Café and the stationmaster at the Donahue Depot who lived above the building with his family. This free event was sponsored in part by a generous contribution by the Tiburon Peninsula Foundation.
The second Walk Your History place in Spring 2011.
The Belvedere Loop included historic paths and lanes that crisscross the island and historic buildings like the Casino, the Blanding House, Hill Crest, and the Tuckey House.
The Lagoon Loop included historic Richardson Bay Cod Fishery, Hilarita/Net Depot, and Reed Dairy.
The Downtown Loop included China Cabin, Ark Row, Main Street and the Railroad and Ferry Museum.
This free event was led by the fantastic steering committee of George Rodericks (Belvedere City Manager), Leslie Doyle (Landmarks Director), Cathleen Andreucci (Belvedere-Tiburon Recreation), Dana Thor (Belvedere-Tiburon Recreation), Petey Stein (Tiburon Peninsula Foundation), and Diana Bradley (Poster Artist). Walk Your History was sponsored by the City of Belvedere, Town of Tiburon, Tiburon Peninsula Foundation, Belvedere Community Foundation, Belvedere-Tiburon Landmarks Society, and Belvedere-Tiburon Recreation.