Blackie's Student Brigade
Click to view slideshow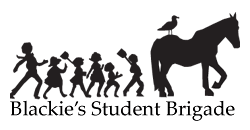 Blackie's Student Brigade is a volunteer student effort designed to engage our youth in the restoration of the ecosystems of Blackie's Pasture and Richardson Bay. A joint effort of the Tiburon Peninsula Foundation and Richardson Bay Audubon Center and Sanctuary, Blackie's Student Brigade involves Peninsula students in ecological preservation and environmental education projects, giving them the tools they need to become the future stewards of our environment.
Projects undertaken by Blackie's Student Brigade include:
Creek restoration in Blackie's Pasture and the Peninsula's watershed, including the fresh water marsh behind the library.
Richardson Bay shoreline restorations from the Audubon Center to McKegney Green and South of the Knoll Park.
Oyster Restoration in Richardson Bay. Phase One is a thriving success thanks to the teamwork of Audubon, Romberg, NOAA, and the Belvedere and Tiburon Foundations.
Working with local schools to create ongoing programs in the community.
Contact Mindy Hiatt at mhiattl@audubon.org to learn more or to join Blackie's Brigade!
Blackie's Student Brigade Partners
Tiburon Peninsula Foundation
Reed Union School District
St. Hilary School
Romberg Tiburon Center for Environmental Studies
Richardson Bay Audubon Center & Sanctuary
Town of Tiburon
Belvedere Parks and Open Space Committee
S.F. Tyree Foundation
Club Casa Grande High School Adobe Creek Restoration Project