Apply for a Grant
No Grant Too Small!
Pocket Grants are available to fund small volunteer-based projects which benefit the Tiburon, Belvedere, and Strawberry communities.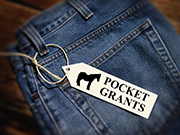 Organizations, teachers, students, churches, neighborhoods or any other group may apply. 
The Tiburon Peninsula Foundation proudly accepts requests from the community to support local projects of any size. General or Pocket Grant Applications which fit our mission, "Promoting the quality of life and sense of community of the Tiburon Peninsula," may be submitted by downloading and filling out an application for consideration by our Grants Committee and Board of Directors. We will act on your Grant request at our next meeting – usually the 2nd Thursday of the month.
Mail the completed form to:
Grants Committee
Tiburon Peninsula Foundation
P.O. Box 210
Tiburon, CA 94920
Email to: grants@tiburonpeninsulafoundation.org