How to Contact Us
Tiburon Peninsula Foundation
P.O. Box 210
Belvedere Tiburon, CA 94920
Email: info@tiburonpeninsulafoundation.org
Information about booking an event in Tiburon: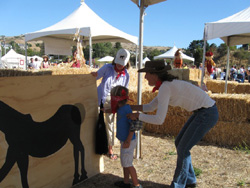 "Blackie's Pasture," extending from the Tiburon Boulevard parking lot to and including McKegney Green, is not rented out for private events. The Town of Tiburon has limited use of this area to a few, community-based events each year. We are sure you can appreciate that we have very high demand for use of that beautiful area.
Please consider Paradise Park for your event, located on the east side of the Tiburon Peninsula. (From Tiburon Boulevard heading into town, turn right at Trestle Glen and right on Paradise Drive.) This park easily accommodates large group picnics and weddings. You can reserve the picnic areas you need and your guests will have adequate parking adjacent to the Park
For more information on this venue, please check out www.marincountyparks.org or call 415-499-6387.