Rebuilding the Trestle Trail in
Blackie's Pasture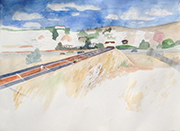 Artist's rendering of the
proposed trail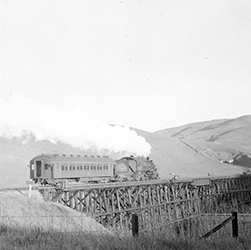 The Trestle Trail, above Blackie's Pasture, will connect us to this area's railroad history. It will be a place for reflection and recreation by providing a short hike to the 130-year-old trestle timbers while offering rare views of the Tiburon Peninsula and Richardson Bay. And your family and your civic organization can be a forever part of the Trestle Trail.
The TRESTLE TRAIL begins at an existing turnoff from the existing Old Rail Trail. It will be the width of an actual railroad track (4' 8"), be bordered on both sides by compacted gravel, and travel for over 600 feet. At Trestle Trail's terminus there will be a 160-sq.ft. turn around area with dedication, informative and commemorative plaques and serene viewing benches.
To make Trestle Trail authentic, there will then be 40-feet of historic track rescued by SMART* from the Northwestern Pacific Railroad that for decades, beginning in 1884, actually rumbled along this very Trestle!
LEARN MORE ABOUT THE PROJECT AND HOW YOU CAN HELP!