Restoration of Blackie's Berm at Blackie's Pasture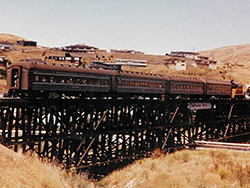 The Old Days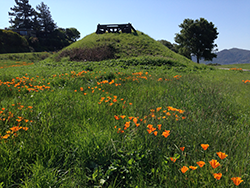 The Trestle Today

Tiburon Peninsula Foundation received a $25,000 grant to clean up the hillside that was originally the train trestle that served Tiburon. In addition to removing invasive plants, TPF planted native seed balls that were prepared by students from the Del Mar School 7th grade science class. This spring the hillside should turn into a beautiful meadow of wildflowers! The Foundation also plans to include some interpretive information for pedestrians passing through the space.

The project is aimed to increase the visibility of the railroad that once defined Tiburon and ran through the peninsula for more than eight decades. The line was built in the mid-1880's by Peter Donahue as an extension of the San Francisco and North Pacific Railroad, which ran north through Sonoma County. The line, which connected San Rafael and Tiburon through a series of tunnels and trestles operated until the mid-1960's.

The initial project grant was provided by the Carol Ann and Dennis Rockey Fund of the Marin Community Foundation. TPF is grateful for the opportunity to revitalize such a unique part of our small town's history.