Honoring the Past and Ensuring the Future
What's New at TPF
The Trestle Trail dedication was held on June 2nd and was attended by over 75 donors and sponsors. Trestle Trail Park, located at the entrance to the trail, is coming in the Fall.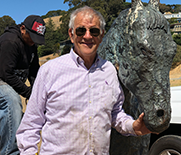 Blackie gets a
check-up
After 20 years of standing in the pasture, Blackie was showing his age. Albert Guibara, the artist who created Blackie, brought his team in to give Blackie a good cleaning and touch-up. One week later, children were again sitting on top of the world on Blackie!

Thank You!
We thank you for your contributions and look forward to receiving your Grant Applications for 2018.
Click here for more information about TPF Grants
Please partner with TPF as we continue to improve and support our community.
In 2017-18 we have participated in a variety of community projects, special partnerships, and collaborations. Our main focus has been the creation and launching of the Trestle Trail project on the berm in Blackie's Pasture. This effort will conclude with the building of a small park at the entrance. It was accomplished through the joint efforts of the Town of Tiburon and Tiburon Peninsula Foundation.

Other projects include Blackie's Hay Day (Bookmarks); McKegney Green Restoration Project (Town of Tiburon); Yellow Bus Challenge (Reed Union School District; Monthly Tea at the Library (Library Foundation); All-In, a new group supporting special families in our community with summer camp scholarships, bikes, shoes, back to school supplies; Friday Night Teen Hangout (RANCH); Blackies Pasture Clean up (Green Team), and many more to come.
---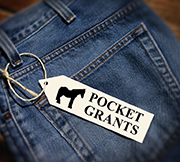 Pocket Grants from the Tiburon Peninsula Foundation are for wonderful people doing wonderful things in our community - one small grant at a time.
The Tiburon Peninsula is a unique community. Just 10 minutes north of San Francisco across the Golden Gate Bridge, it's surrounded by water and spectacular views, beautiful open spaces and walkable ridges. For generations, residents have enjoyed the spectacular beauty and tight camaraderie found in the community.
Enjoy this virtual tour of the Tiburon Peninsula and join us as we honor the area's past, enhance the present, and embrace its future.